FOOTBALL MANAGER 2021 FEATURE REVEAL-PART 1
Hello, guys and girls! It's me, Badjokes back at you once again with another blog & this time we're starting a new series in the run-up to the release of FM21 where we will be looking at the new features that Sports Interactive have released & I'll be giving you my thoughts on them, as in what I like & what I maybe don't like quite as much.
Before we get into that though, if you would like to know what my plans are for Football Manager 2021 then please check out my last post Here
Recruitment Meeting
The first new feature that is shown is the recruitment meeting, which looks to me like an amalgamation of the current director of football model & the scouting meeting, as now you will be informed about not only positions that your team is lacking in, but now player roles as well, & why you might want to replace them. The two examples given in the features reveal video, are the first choice leaving at the end of the season & lacking depth in that particular role. Which I'm assuming will be just two of many different reasons to be looking into buying new players.
Excitement level: 6/10
This feature looks good as it seems to be putting a couple of existing pieces together to streamline the process of knowing what positions and roles to improve the squad on, which is an area I struggle with, as I get too attached to players after a couple of seasons. So having ideas as to where to improve the squad will certainly be helpful for me.
Dealing with the media

Finally, after what feels like forever & might be the first time since press conferences were introduced, they look to have been redesigned & perhaps revamped with a new modern look; as it's now easier to see what companies all the journalists work for & you can now tell if the question you have answered has kept the person asking the question happy. It's not quite clear yet what upsetting the journo's could mean for you but I'm guessing that the main side effect could be that they would be more likely to push for you to be sacked, but I'm hoping there will be more side effects. Time will tell on that.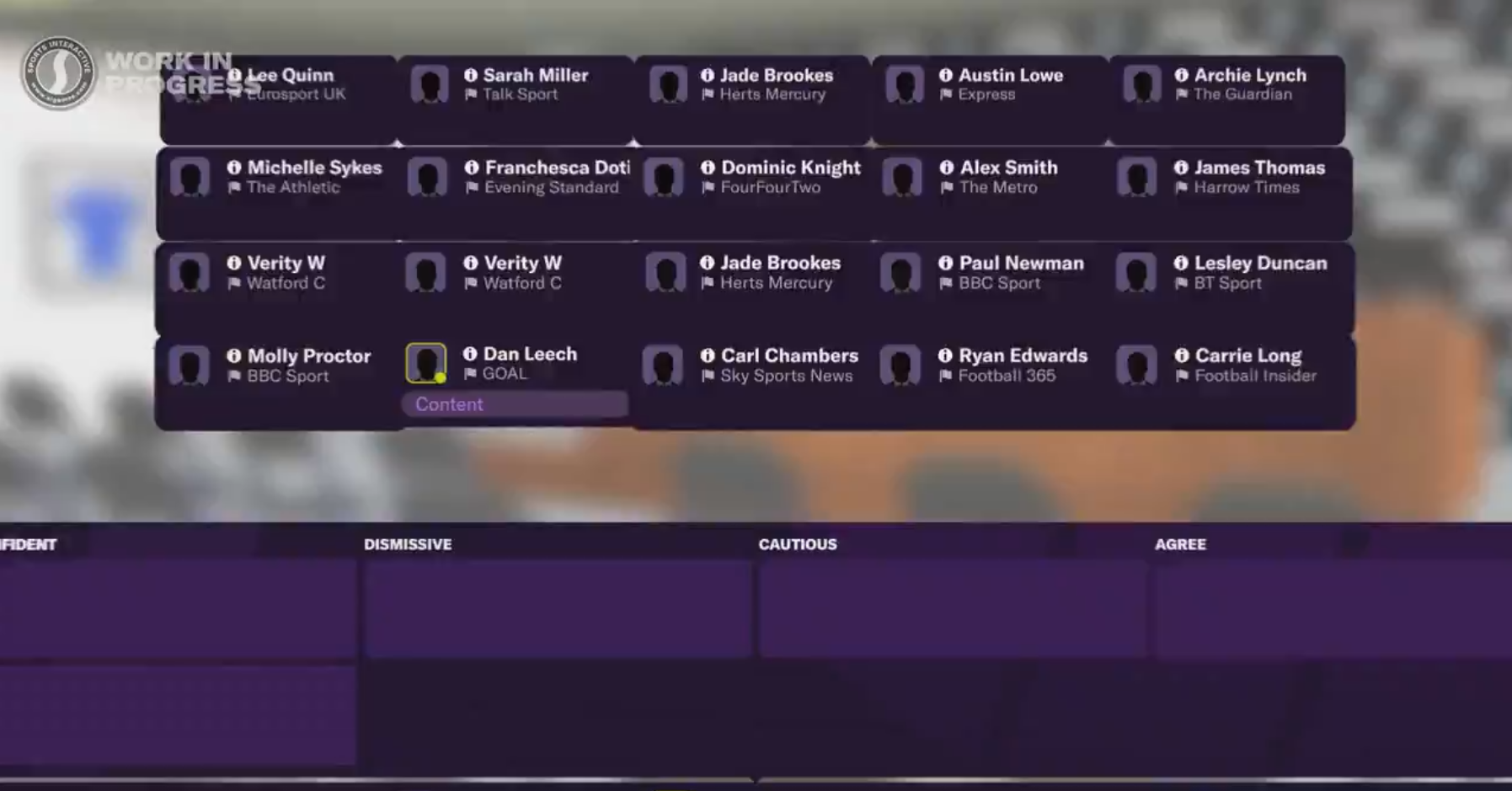 Excitement level: 7/10.
I like this feature as press conferences have long been overlooked & have grown stale in recent years with it being possible to run through them without reading the questions & just selecting the answers, so it's getting a seven out of ten for me but may get bumped up to an eight if this means that there are new questions and answers included in this refresh.
Perfect Your Tactics
A feature that we got only a very brief look at is the perfect your tactics & from the little we've seen, the pre-match advice has now been moved onto the tactics screen, which I'm hoping means it is now more streamlined & changes your tactic automatically when accepting a piece of advice. The piece of advice shown in the video is to drop deeper & is represented by a circle around a football, slowly filling up. So that could indicate that the advice has different levels of how much your staff believe that could help your squad.
The other interesting part of the tactics screen is the addition of offensive & defensive tactics, which might just be a remodel of the in possession & out of possession units that have been in the last couple of FM's or they could hint to a revamp of the tactics.
Excitement level: 5/10.
It's hard to be too excited about something that we didn't see too much about, but as more info comes out this could be a really interesting feature
Motivate Your Players
Another feature that has had a refresh is player interaction, which now includes using body language when talking to your players (as shown in the screenshot below), where the manager opens his arms towards his player to show that he's happy, but I'm guessing there will also be angrier emotions as well. It's not clear if this will replace the current system of using passionate, calm, assertive, ETC voice options. I hope that you can use both but that wasn't made clear here.
Excitement Level: 5/10.
It's interesting to see that Sports interactive have had another look at player interaction & this could be useful if it's used with the current model but if it's just a replacement, then I don't really see the need for it.
Match Analysis
Here is the feature that I am most looking forward to getting to learn about & understand as there is now even more match analysis in the game, with the addition of expected goals, which is a stat that has come into football more & more, over the last few years. I really am excited about this, as I have no idea what expected goals mean, or why its a useful stat. So hopefully over the course of FM21 I can properly understand what it is.
Excitement Level: 8/10.
I'm all for more analysis in Football Manager as I believe it's the real depth of analysis tools that help to make FM feel so lifelike and realistic, as opposed to Fifa or Pro Evo so I'm very excited for this!!
Match Day
Now onto the most important part of any managers job, the matchday itself & this now has a new streamlined look. I like the new substitution graphics & I really like the lineup being at the bottom of the screen with the player's condition being represented by a heart that is bright green for 100% condition & changes as the condition gets worse. I think it's nice being able to see that in graphical form rather than the numbers that it was previously.
As you can see in the screenshot above it doesn't look like too much has changed to the graphics of the game which is good, as I think I'm in the minority of people who actually like the graphics in the game. I'm not sure I would ever want FM to go and get Fifa or Pro Evo style graphics, so all I would want every year is a few more animations and more realistic physics, especially for tackles as right now most of the time, if you give away a penalty you can't always tell what it was for. Unless it was an obviously awful tackle. Also Sidenote: it's nice to see one of my favourite FM Bargain Buys Das Bost get a look in on the feature video after I used him a lot a couple of FM's back, as he was a great cheap option in the mould of Edin Dzeko!!
Excitement level: 7/10.
It's always good for the matchday to get a refresh as after playing FM20 for over 1000 hours you don't want to be looking at exactly the same stuff for another 1000 hours so I like what they've done with the matchday without them changing too much so should still be as comfortable to navigate as ever.
Au Revoir

I hope you've enjoyed this post & its got you in the mood for FM21. Let me know in the comments here, or on Twitter what features you like & maybe what you don't like.
I'll be back with another post, once some more features are announced & I'll be blogging weekly once the beta has been released. Thanks so much for reading! I'll catch you later!